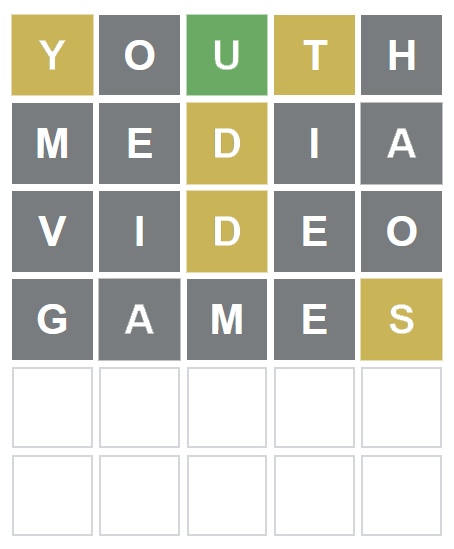 Depending on your media habits and social network, you may – or may not – be familiar with the image on top. It shows New York Times' Wordle, a daily word game in which players have to guess a five-letter word in six attempts or fewer. If you have played the game yourself, you are likely familiar with its rules and implicit conventions (such as that there are no pluralized words as solutions) – you may even have tried to discern a solution from the image's colored tiles! Recognizing a game from an image, knowing its goal and rules, and having first-hand gameplay experience are various forms of (video) game literacy.

Just as with the superordinate concept of literacy, there are many ways of being literate in video games. As you are reading this blog right now, it means that you are literate in the sense of 'being able to read' (dt. alphabetisiert), and needless to say this definition of literacy is transferable onto video games (i.e. 'being able to play'). Luckily, many young people possess this fundamental form of game literacy, as around 90% of all 10- to 19-year-olds play video games on a regular basis.1

At the same time, video game literacy represents a complex and multimodal form of media literacy (dt. Medienkompetenz) that goes beyond the ability to participate. Most tweens and teens are arguably less experienced in contextualizing and critically evaluating their game experiences due to a lack of formal instructions at school. Yet, video games are not separable from culture and politics; not even Wordle.2 My research project aims to fill this gap and contribute methods to hone those critical skills in line with the European Youth Goals (in particular #43 and #84).
If this has piqued your interest, I invite you to watch my video presentation for more on video games in general but also the need for critical video game literacy specifically:

---

Georg Wendt is a predoctoral researcher at #YouthMediaLife. As a perennial student, former teacher and graphic designer, he researches video games narratives and their emancipatory affordances in classroom settings.